A Victorian guide to Cambridge student life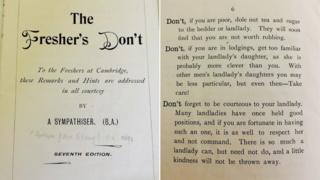 Undergraduates were encouraged to smoke but told not to use tea cosies in a Victorian guide to student life.
The Fresher's Don't was published in 1893 for Cambridge University students.
It is on display at an exhibition at St John's College, which was then an all-male establishment.
The guide includes advice on the opposite sex, including "not to get too familiar" with the landlady's daughter - and a reminder not to "speak to girls without introduction".
For more stories on Victorian England visit our Pinterest board