Man left dying stabbed partner to rot in shrine, court hears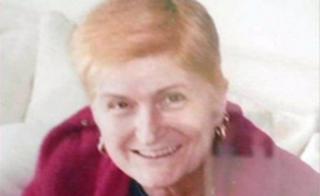 A carer stabbed his disabled girlfriend to death then left her body to rot for two weeks in a "shrine" he had created for her in her home, a court heard.
Laraine Rayner, 52, was stabbed multiple times in the neck and nose at her flat in Wisbech on 6 April. Her body was found on 24 April.
Steven Stocks, 44, of North Brink, Wisbech, admits preventing her burial but denies murder and manslaughter.
She was killed in a "state of fury", a jury at Southwark Crown Court was told.
After stabbing the mother of three during an argument, Mr Stocks undressed her, leaving her only in her underwear before placing her body in the "shrine" in her bedroom, the prosecution said.
More on this and other news from Cambridgeshire
He then wrote a letter to Ms Rayner, apologising for the "mess" he had made, John Farmer told the court.
He addressed it to "my dearest princess", and wrote: "Sorry babe, at least it was quick. You're the best woman I've ever had.
"Sorry about the mess in your flat - if you saw the mess you would kill me."
'Vulnerable'
Ms Rayner's body was discovered in her Mill Road flat after her father contacted police.
They also found Mr Stocks, who was naked and had apparently tried to take an overdose.
Mr Farmer told the court Mr Stocks had left his partner to bleed to death before "carrying on with his ordinary life".
Post-mortem tests showed she died from a stab wound to the neck.
The extent of Ms Rayner's injuries showed Mr Stocks had "at the very least intend[ed] to do very serious harm, if not to kill the person", the prosecutor said.
The court heard the victim was "fragile and vulnerable", had a number of physical and mental health issues, was housebound and relied on crutches to get around.
Mr Stocks had allegedly claimed he was acting in self-defence.
The trial continues.