Felixstowe Boots blunder 'hastened' blind man's death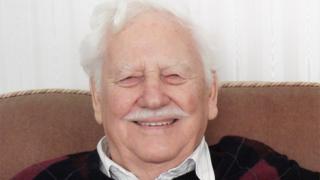 A blind pensioner died after a Boots pharmacy sent him another patient's medication, an inquest has been told.
Douglas Lamond, 86, died in May 2012, two days after a pack of drugs was delivered to his home from a Boots branch in Orwell Road, Felixstowe.
The labels had been mixed up and the error "very likely... hastened his death", Suffolk Coroner's Court heard.
After his death a pharmacist who had checked part of the medication box was cautioned under the Medicines Act 1968.
Widower Mr Lamond, lived alone at his home in Stuart Close, Felixstowe, and was "almost totally reliant on health professionals" preparing his medication for him as he was registered blind, Det Supt Andrew Smith, told the inquest.
He had been prescribed a number of drugs for complaints including type 2 diabetes, heart problems and glaucoma and received weekly boxes from the pharmacy.
'Traumatic experience'
However, the box of medication he received on 10 May contained several drugs labelled with a different name.
The court heard a dispenser at the chemists had slit open a compartment of a previously assembled medicine box to add pills that had been requested, and then sealed it with sticky tape.
Pharmacist Mihaela Seceleanu later checked the box for the additional pills but not for the existing ones.
Mr Lamond died on 12 May at Ipswich Hospital after a friend called an ambulance for him.
He had told paramedics he had been short of breath for three days and had chest pain.
The mixed-up medication had "very likely... hastened [Mr Lamond's] death", Det Supt Smith said.
The Crown Prosecution Service said there was insufficient evidence to charge anybody with gross negligence manslaughter, but following an appeal by Mr Lamond's family, Ms Seceleanu was cautioned.
Mr Lamond's daughter Dianne Moore said in a statement: "There's, somewhere, a failing in the dispensing process that I would like to see investigated so another family doesn't have to go through such a traumatic experience."
The inquest continues.