Louis Smith in Freedom of City of Peterborough honour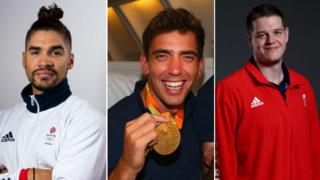 Three Olympic and Paralympic medallists have been given the Freedom of the City of Peterborough.
Gymnast Louis Smith, Paralympic rower James Fox and wheelchair basketball player Lee Manning, all of whom hail from the city, were honoured at a civic reception on Tuesday.
Fox described it as a "massive honour", while Smith said it was "a privilege".
"Freedom of the City is the most prestigious honour we can bestow on an individual or group," the council said.
"It is only granted to those who have distinguished themselves through their work or efforts, or to recognise the respect and high esteem in which they are held by the people of Peterborough," a city council spokesman added.
However, he admitted, other than the prestige of being a "Freeman" of Peterborough, "in today's modern times no real privileges are associated with the award".
Ahead of the ceremony, rower James Fox, who won gold in the Paralympics coxed fours in Rio, said: "I've heard a rumour that I can herd my sheep over Town Bridge on Sundays, which sounds pretty bizarre, but I'm looking forward to doing that."
However, it transpires that this is not one of the perks of being a Freeman of Peterborough.
The accolade does not come with sheep-herding rights, the city council confirmed. In response, Fox joked it was "an outrage".
Speaking ahead of his award, Louis Smith, 27, who won silver medals in the individual pommel horse events at both London and Rio, said: "It is a real honour and a privilege.
"This is where it all began. I've had incredible support from Peterborough. Other people have sacrificed so much to get us to where we are. We're proud to be from Peterborough."
Lee Manning, 27, who won bronze in the basketball for Great Britain in Rio last summer, was unable to attend the event.
---
To herd or not to herd: Freemen who use the right
---