Tory James Palmer is the first mayor of Cambridgeshire and Peterborough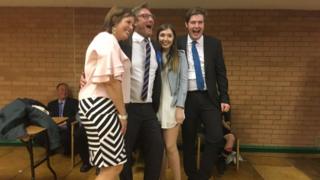 Conservative James Palmer has been elected as the first mayor for Cambridgeshire and Peterborough with 56.9% of the vote.
After no candidate received 50% of the vote, Mr Palmer beat Liberal Democrat Rod Cantrill on the second round.
He said he wanted to change Cambridgeshire not just for the next four years but for the next 30 to 40.
Mr Palmer received 88,826 votes in total, while Mr Cantrill received 67,205 votes. The turnout was 33.8%.
Mr Palmer, who used to run a dairy business at Soham in the east of the county, said he would focus upon upgrading the county's transport infrastructure.
He said: "We are a very strong county that pays into national government and we deserve to be properly linked by quality rail, quality light railway and public transport and quality road networks.
"We need to upgrade the A10 and A47, open up the Fens to growth, and we need an underground or light railway option for the south of the county."
Mr Palmer was leader of East Cambridgeshire District Council and has been involved in politics since 2007.
He said he expected his office to be in Ely because of its good rail links to Cambridge and Peterborough.
His salary has yet to be confirmed.
Meanwhile, the Tories have also won control of Cambridgeshire County Council.
In Peterborough, where there were no council elections, turnout was 24.7% which equates to 33,201 votes.
---
Mayoral election: First round results in full
James Palmer (Conservative) - 76,064
Rod Cantrill (Liberal Democrats) - 47,026
Kevin Price (Labour) - 37,297
Paul Bullen (UKIP) - 15,931
Julie Howell (Green) - 12,628
Peter Dawe (Independent) - 9,176
Stephen Goldspink (English Democrats) 2,256
Mayoral election: Second round results in full
James Palmer (Conservative) - 12,762
Rod Cantrill (Liberal Democrats) - 20,179
---
Six regions of England have held elections for newly-created combined authority mayors, whose remits will cover multiple local authorities in mostly urban areas.
Their main responsibility will be to decide their region's economic strategy and many will have powers covering other areas such as transport and housing.