Cambridge University academic sentenced for indecent child images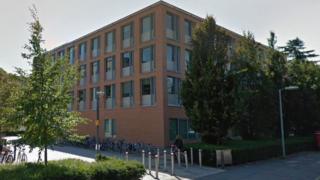 A Cambridge University academic who admitted a string of charges relating to indecent images of children has been given a suspended jail sentence.
Prof Simon Jarvis, 53, a poetry specialist at the university's English faculty, pleaded guilty to 12 charges.
Jarvis, from Cambridge, was arrested by National Crime Agency officers in September.
He was sentenced to 12 months in jail, suspended for two years.
Jarvis appeared at Cambridge Crown Court, where he admitted five counts of possessing prohibiting images, four counts of making indecent images of children, two counts of distributing indecent images and one count of possessing extreme pornography.
After Jarvis appeared in court, Prof Martin Millett, head of the School of Arts and Humanities, said: "It is hard to put into words just how shocked the university community is by this type of behaviour."
The university's "thoughts are with the victims of these terrible crimes," he added.
A Cambridge University spokeswoman said Jarvis had been suspended pending an internal investigation.