Shepreth Wildlife Park tiger Rana put to sleep aged 18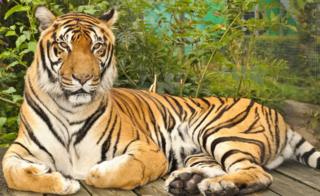 A wildlife park's "much loved" tiger has been put down after his arthritis became too much for him to bear.
Rana, an 18-year-old tiger was at Shepreth Wildlife Park in Cambridgeshire since 2001.
Its director said the decision was made "with great sadness" but Rana had suffered from chronic arthritis for two years and "his legs have finally reached the end".
Tributes from visitors have flooded in since the announcement.
Park director Rebecca Willers broke the news on Facebook, saying: "It is with great sadness that we announce we will be putting our much loved Rana to sleep tomorrow before we open.
"We have made the painful decision, under the guidance of our specialist vet, to let him rest now."
More on this and other news from Cambridgeshire
She said all the park's staff were "very upset", and added: "Rana was my favourite here. It's going to be a tough day for sure."
A spokeswoman confirmed Rana was put to sleep at 07:00 BST.
Ms Willers' post was met with a string of messages from members of the public.
"Such a hard decision, he will be missed by everyone," one person wrote.
Others said: "Such a beautiful animal," and "a sad day for all, but a happy release for him."
"Poor old boy, he'll soon be running free," another fan added.
Tigers have a life expectancy of about 20 years, the park said.
---
Big cat tiger facts
Tigers are classified as endangered by the IUCN Red List of Threatened Species
They are the largest of the big cats, but unlike other cats, tigers love water, are good swimmers and often cool off in lakes and streams
A tiger's stripes are like a human fingerprint, no two tigers have the same pattern
There are only about 3,900 tigers remaining in the wild - the population has declined by 95% during the last century through poaching and habitat destruction
Breeding populations of tigers are currently found in only eight areas in Bangladesh, Bhutan, India, Indonesia, Malaysia, Nepal, Russia and Thailand
Tigers now occupy just 7% of their once enormous range
Source: WWF/BBC/IUCN Red List
---