Witcham horse crash driver will not be prosecuted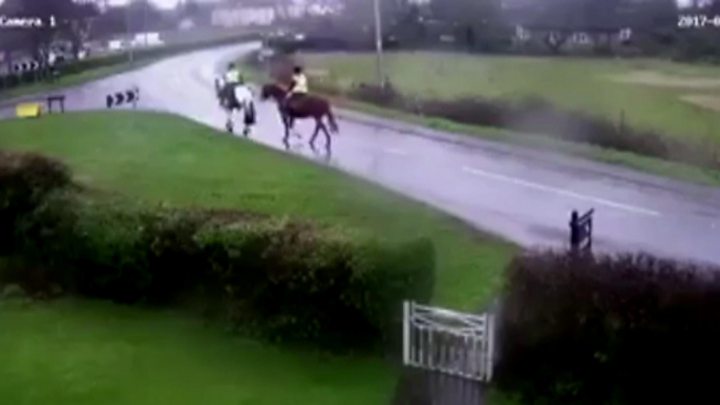 A driver who ploughed into two horses and their riders will not be prosecuted, police have confirmed.
The man's car careered on to the wrong side of the road and crashed into them at Witcham in Cambridgeshire in March.
One of the riders was taken to hospital as a precaution and one of the horses needed stitches, but all recovered.
The driver was offered a Driver Alertness Course "in lieu of prosecution" which he took, and police said that was "the end of the matter".
CCTV footage of the incident showed the riders being thrown from the horses, and one of the animals being thrown into the air in the collision.
The horses were both stabled at Witcham Equestrian Centre near Ely.
One of them, Patsy, needed 100 stitches to her neck and chest, and the other, Fleur, was bruised.
Three months later, Patsy has taken her first hack on a road since the accident.
"She was a bit nervous, but we'd like to thank all the drivers who slowed down for her, which really helped her confidence," Jane Hart, from the equestrian centre said.
Cambridgeshire Police have now confirmed the car driver was offered a Driver Alertness Course (DAC) which he completed.
"If we offer a DAC and the driver chooses not to take our offer then he would be summonsed," a spokeswoman said.
"DACs are offered in lieu of prosecution and if the driver fully complies, which in this case he has, then that is the end of the matter," she added.
The Driver Alertness Course is one of a number of "awareness" programmes offered under the National Driver Offender Retraining Scheme (NDORS) covering "low level moving traffic offences".
Aimed at motorists who have been involved in a minor collision - where the driving is careless or inconsiderate - the course lasts for one day and involves a mixture of classroom and on-road driving.