Vladimir Bukovsky child abuse images retrial ordered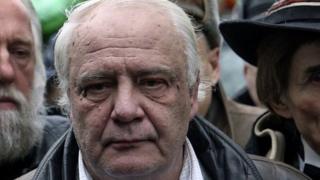 A Russian dissident accused of possessing thousands of indecent images of children should be retried despite his ill health, a judge has ruled.
Vladimir Bukovsky, 74, denies five counts of making indecent images.
He also denies five of possessing indecent images of children and one of possessing a prohibited image.
An earlier trial at Cambridge Crown Court was halted in December after Mr Bukovsky was diagnosed with pneumonia and admitted to hospital.
Judge Gareth Hawkesworth had directed that "if and when" Mr Bukovsky was fit enough to stand trial, it would be heard before a new jury.
'Vocal critic'
In a hearing at Cambridge Crown Court on Friday, defence counsel Francis FitzGibbon QC argued that the public interest in prosecuting the case was "not so great as to outweigh the recognised risk to this man's health and wellbeing".
He said Mr Bukovsky was a "very sick man" who "may not have very long to go in terms of life expectancy".
But Judge Hawkesworth said: "In my judgment, and this is a very sad matter, but the defendant's risk of dying tomorrow on an ordinary day is just as high as if the trial was proceeding tomorrow."
Ruling that a retrial should proceed, he said that the risk to Mr Bukovsky's health could be mitigated by allowing him to appear by video link from his home in Cambridge and for him to have a medical examination two days ahead of the trial.
Mr Bukovsky, an author and activist who became well known internationally as a vocal critic of the Soviet regime, returned to the UK from Germany to face the charges. He had been receiving private medical treatment abroad.
He is due to stand trial at Cambridge Crown Court on 24 July.