Fire engine caused Manea fire station collapse, investigation finds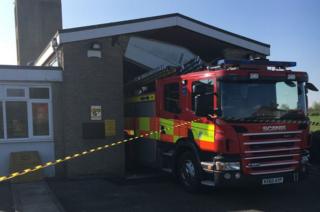 A fire station collapsed after a fire engine hit it during a training session, an investigation has found.
Part of Manea station in Cambridgeshire collapsed on top of the vehicle on 6 April.
No-one was hurt but the station has still not reopened.
"An investigation has determined the damage was caused by a fire engine accidentally colliding with the side of the doorway," a spokesman for the county's fire and rescue service said.
Both the engine and the building were damaged during the weekly training session at the small station.
The engine remained embedded in the building for a week.
Work to rebuild the engine bay is almost complete and firefighters are expected to return to the station next month.
"We're all looking forward to returning to the station," said Watch Commander Mark Milner.
"We're currently training at March each week and cover to the town is being provided by neighbouring fire engines, so it'll be great to be back in our own community again."
Cambridgeshire Fire and Rescue Service has not yet said whether the engine was reversing into the bay or coming out at the time of the incident.