Papworth heart transplant patient reunited with surgeon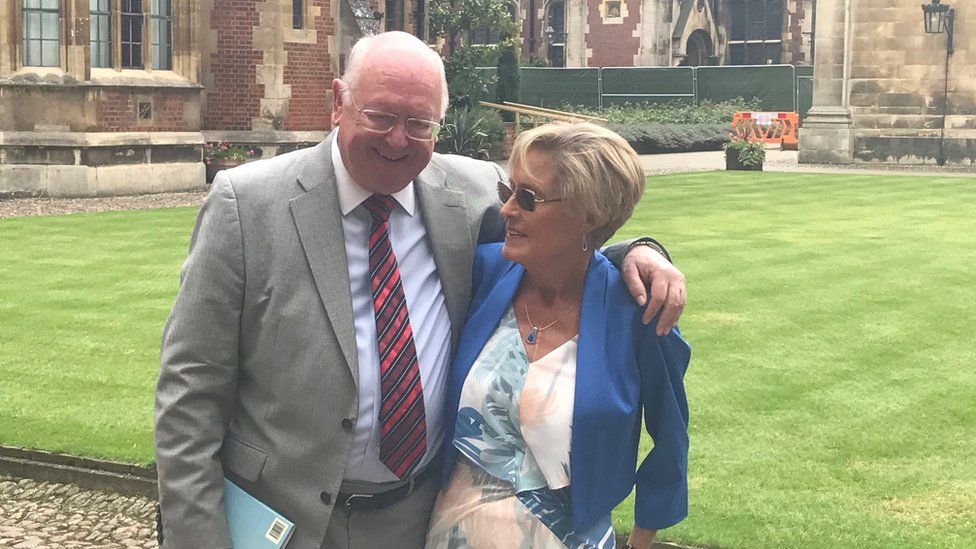 A woman who expected a heart transplant to give her an extra four years of life has been reunited with her surgeon 30 years after surgery.
Carol Town was unable to walk up the stairs before her 1987 transplant at Papworth Hospital in Cambridgeshire.
Surgeon John Wallwork said heart transplant patients in the 1980s were advised they had "two, three or four years" of post-operative life.
Since then Mrs Town, 63, has climbed Snowdon and travelled the world.
She was diagnosed with a rare illness called Eisenmenger's Syndrome at the age of five, which leads to irreversible lung damage and was untreatable at the time.
Mrs Town, who grew up in Upminster but now lives in York, spent her childhood in and out of hospital.
She was accepted on the transplant list 18 months before a suitable organ was found, by which stage she "never did anything physical - it wasn't a question of how much, it just didn't happen".
Prof Wallwork said: "Her quality of life was miserable and even if you said to people like Carol before we put them on the list we may only give you two, three or four years, they'll say yes."
Afterwards, Mrs Town learned to run, swim, cycle and ride horses. She has also taken part in the Transplant Games and became a mother through a surrogate.
She said: "The whole of my life since the operation has been because of the operation."
Papworth Hospital is the NHS's specialist heart and lung hospital.
The UK's first heart transplant took place there in 1979 and since then staff have carried out more than 1,400 heart transplant operations.
Related Internet Links
The BBC is not responsible for the content of external sites.