Sago pudding tops 1900 Cambridge college menus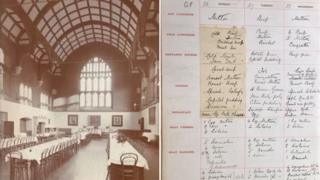 Late Victorian students fuelled their studies with steamed and shaped sago puddings, menus from a Cambridge college have revealed.
The popularity of the now unfashionable South Asian starch can be found in the Girton College menu books which date from 1896 to 1903.
A hearty pudding of some sort was always served for dinner.
Crimea, Winchester and sago puddings are no longer served to today's students, said the college caterers.
At the time, Girton College only educated women, who were banned from attending most other Cambridge colleges.
Students received a cooked breakfast of ham, eggs and fish, while meat was served for both luncheon and dinner.
But it is the steamed or baked puddings that fascinate.
Crimea Pudding, Patriotic Pudding or the uninspiring-sounding Plain Pudding were steamed.
Nottingham Pudding could be based on a batter and apple-based dish, but the menu books do not include a recipe for Winchester Pudding.
---
What is sago?
It is a starch found in some palm trees
The tree is cut down and the stems split to extract the starchy pith
Sago meal is mixed with water to form a paste and turned into grains
It is 88% carbohydrate, 0.5% protein and has minute traces of fat
Source: Britannica
Cooked with milk, sugar and and flavourings, recipes using sago were first published in the UK 1859, according to The Foods of England project.
It is no longer served to Girton students, but they do still have a hot pudding option every day.
This is more likely to be sticky toffee pudding, Bakewell tart or crumble - and is "still popular", according to college catering staff.
As Great British Bake Off 2015 finalist Ian Cumming said, "no meal is complete without pudding, and I don't mean fruit salad", although he has probably yet to try sago.