Peterborough Cats Protection pet food theft response 'phenomenal'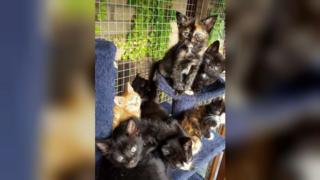 A cat charity left in "crisis" when its entire stock of pet food was stolen now has enough to last about two years after a "phenomenal" public response.
Pet lovers rallied to the aid of Peterborough Cats Protection after £2,500 of food was stolen from a garage on 19 August.
The food was meant to feed its 34 cats and kittens until Christmas.
After an appeal enough food was donated to last "until 2019" and more than £5,000 pledged to the charity online.
The theft from the charity's locked garage was described as "callous" by branch co-ordinator Pam McNicol.
However, as news spread of the charity's 34 cats and kittens left with no food, they were "overwhelmed" by the public's response.
Donations of food have poured in from both individuals and local businesses, including DSM Ltd, a disaster recovery company "full of cat lovers".
Its staff clubbed together to buy more than £1,000 worth of cat food which was delivered earlier this week.
"We have three working cats at our rural location at Sibson Airfield - rodent prevention officers Oscar, Foxtrot and Charlie - so we couldn't not help," Helen Porter said.
"Our own resident cats certainly appreciate how fortunate they are to have been taken on here and were only too keen to 'share the love' with fellow felines."
That food, together with other donations means the charity has so much it has had to find several new secure locations to store it all.
"Luckily most of it has use-by dates of 2019, as we have enough to last until then," Mrs McNicol said.
"The response had been phenomenal," she said, and they were "deeply grateful".
With thousands of pounds also pledged online, the charity will be discussing how best to disseminate any excess funds to other branches which are "struggling", she added.
Police are continuing to investigate the theft.