Waterbeach recycling centre fire set to 'burn for days'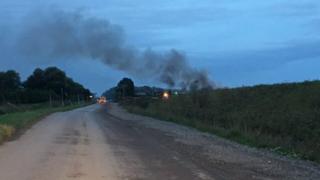 A fire at a recycling centre is expected to burn itself out over several days.
About 500 tonnes of waste caught fire at about 01:00 BST at the Amey plant in Waterbeach, Cambridgeshire.
The Environment Agency and Cambridgeshire Fire and Rescue attended. The blaze is burning itself out under "controlled conditions".
People and businesses affected by the smoke were advised to keep their doors and windows closed.
"The fire is being allowed to burn itself out under controlled conditions," the fire service said. "This may take a couple of days."
In July 2015, flames destroyed about 15,000 tonnes of organic waste material at the Ely Road plant. Investigations found the fire started accidentally.
The site handles nearly 400,000 tonnes of waste every year.