Ely Museum buys Bronze Age torc found in field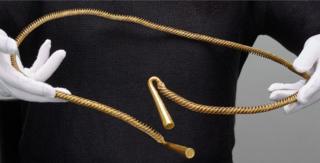 A Bronze Age gold torc is to remain in the UK after it was bought by a museum using a series of grants.
The torc, valued at £220,000, is being bought by Ely Museum after it was found by metal detectorists in a Cambridgeshire field last year.
The large bracelet-like ring, which is more than 3,000 years old, is much larger than usual examples and is made of 730g of almost pure gold.
It will go on public display on Saturday 7 October.
The torc, examples of which also date back to the Iron age, was declared Treasure at an inquest and the finder and landowner will receive a reward.
The museum has been able to pay for the torc after receiving a grant of £138,600 from National Heritage Memorial Fund, plus grants from the Arts Council, Art Fund, Headley Trust, Museums Association and donations from members of the public.
Neil Wilkin, curator of Bronze Age Europe at the British Museum, described the workmanship on it as "astonishing".
"There has been much speculation about its use as it is so large," he said.
"Perhaps it was worn over thick clothing, used to ornament a sacrificial animal or statue or even worn by pregnant women as a form or protection."
Ros Kerslake, chief executive of the memorial fund, said without its funding "the torc could have ended up in private hands and been lost from public view".
"Thankfully, this extraordinarily rare, precious and beautiful piece of history will now be on permanent display at Ely Museum, helping to tell the story of Bronze Age civilisation in and around the fens more than 3,000 years ago," she said.