Woman's Cambridgeshire portable loo charity lock-in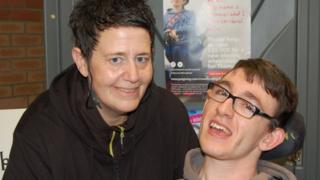 A woman is spending 48 hours locked in a portable toilet to raise funds for a wheelchair for a man with cerebral palsy.
Louisa Marnoch has been squatting in the toilet in the lobby of Tesco in Milton, Cambridgeshire since Thursday.
She is raising money towards a £25,000 wheelchair for Thomas Grice, 21, who has not had a new one since he was 11.
Asked if she might get a wee bit bored, Mrs Marnoch said she would "do a little light blogging and play 'I spy'".
Thomas Grice was born three months' prematurely, weighing 2lb 7oz (1.1kg).
He was diagnosed with cerebral palsy, affecting postural control and all four limbs. He is unable to walk and is completely wheelchair-dependent.
Thomas is a student at Cambridge Regional College where Mrs Marnoch works as a special educational needs and disabilities facilitator.
"I spend most of my week around Thomas at college so I know he needs a new wheelchair desperately," she said.
"His current one is hindering his growth and movement."
Although some funding was available, supporters have had to raise the majority of the £25,000 cost of a new one.
They have about £20,000 so far and Mrs Marnoch hopes her toilet stunt will be "the final push".
To keep her sanity while sitting on the relatively sanitary cistern, Mrs Marnoch is blogging on Twitter while playing 'I spy' with shoppers outside.
"I've also been eating really healthily as I really don't want to be in a position where I'm offending my own self," she said.
Thomas said: "It's mad, it really is. I can't believe what she's doing for me - it's a really amazing story.
"I just can't wait to get my bottom in that chair."
Mrs Marnoch locked herself in at 18:00 BST on Thursday and the first night was "cold and very noisy as it's a 24-hour store and they are doing some refurbishment".
She is due to emerge at 18:00 on Saturday.