Deborah Steel: Landlady disappearance a '20-year burden'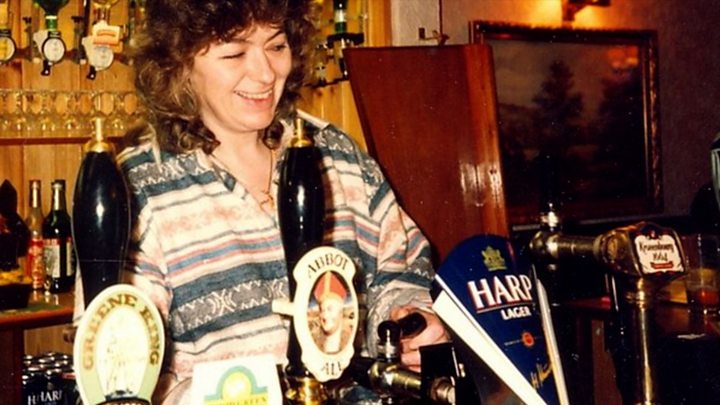 The sister of a pub landlady who vanished in 1997 has said the unsolved murder is a "20-year burden" that "blackens" her heart.
Deborah Steel, 37, went missing after an evening shift at the Royal Standard in Ely, Cambridgeshire.
The case, classified as a murder inquiry in 2014, has seen two addresses excavated and three people arrested. No-one has ever been charged.
Gini Secker, 54, said she has a "little cry" for her sister every Christmas.
"I've always been a massive lover of Christmas, but it fills me with sadness now," she said.
"I still buy her presents every year - they're all in the bottom of my wardrobe - but I know when I buy them that she's never going to have them.
"It's a 20-year burden."
Three men, then aged 50, 70 and 73, all from Ely, were arrested during the investigation - but released with no action taken in 2015.
Detectives believe Ms Steel was murdered in Longfields, Ely where she had taken a taxi for the mile-long journey home on 28 December 1997.
Excavators peeled back the patio area of the pub and the garden of her home in Longfields but nothing was found.
Ms Steel was not reported missing for several days after leaving the pub. Her partner, Brian McDermott, had thought she had travelled without notice to visit friends in London, as she had done before.
Mrs Secker, who runs a pub in Eastwood, Nottinghamshire, said: "She was popular, bubbly, flirtatious - my best friend.
"The pub was doing well, she had money in the bank, properties. She'd have seen pound signs at this time of year."
Mrs Secker said she was certain her sister had been murdered.
"One hundred per cent, she's been murdered," she said. "It blackens my heart."
Police say Ms Steel had no reason to disappear - having secured finance on a new catering business.
Footprint
Det Ch Insp Adam Gallop, of the Bedfordshire, Cambridgeshire and Hertfordshire Major Crime Unit, said: "If you live in the UK you leave a footprint somewhere, it's very difficult to disappear.
"But there is no sign that Debbie is alive. She had plans in life, she had aspirations.
"I really believe that she was murdered and her body concealed somewhere, within easy travelling distance of Ely."
Mrs Secker said the most heartbreaking moment was an appeal from their father, Bill, on his deathbed in 2010.
"Debbie was a very hard person and a bit of a rebel when she was younger - but dad didn't love her any less," she said.
"It broke his heart when she went missing. His last words were 'Find out what happened to my girl'. He never gave up looking for an answer but I think he gave up on ever seeing her alive."
Timeline: Deborah Steel murder inquiry
December 1997: Deborah Steel is last seen at 01:00 GMT leaving the Royal Standard pub
September 2014: The missing person case is reclassified to murder
November 2014: A third man from Ely is arrested
January 2015: Two suspects are released without charge
February 2015: A search begins of the Royal Standard pub in Ely. In April, the patio area is dug up
June 2015: The third suspect is released without charge