Dog in the middle of labour abandoned in Abbotsley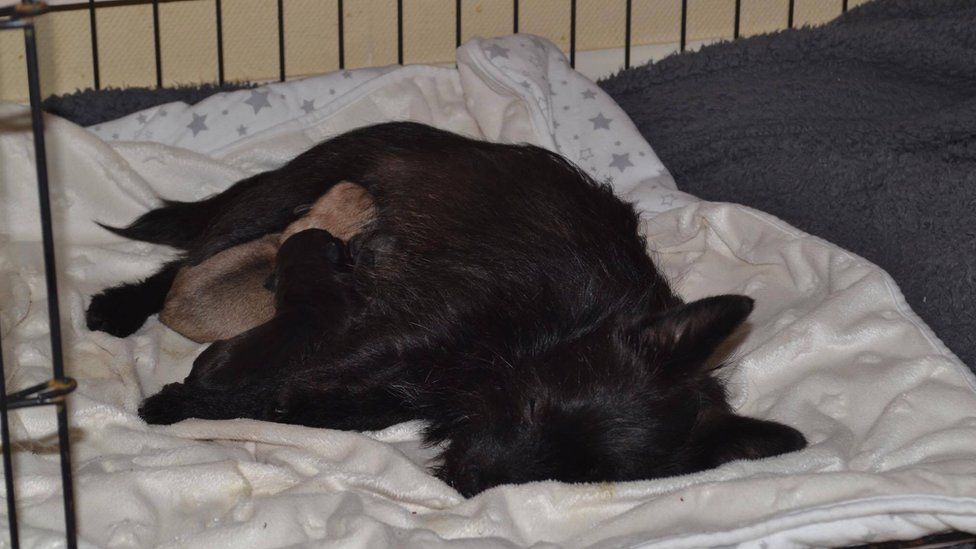 A dog who was in the middle of giving birth was dumped on a doorstep in near freezing temperatures, animal rescuers have said.
The Chihuahua-terrier cross, who has been named Bella, was found in a wire crate on Thursday evening in Abbotsley, Cambridgeshire.
She had already given birth to a puppy which had died, and another was stuck inside her birth canal.
The dog eventually had two healthy puppies via caesarean.
Joshua Flanagan, from Fenland Animal Rescue, said the situation was "absolutely tragic".
"She was in all this pain and discomfort, howling at the top of her lungs when we found her after we were called by police," he said.
"It was 1C (34F) outside when we turned up, and she was in a wire crate.
"We see abandoned animals and strays on a weekly basis, but it's the first time we've seen an animal dumped when they're in so much need."
Bella, who is thought to be between a year and 18 months old, was taken to Cromwell's Veterinary Hospital in Huntingdon for an emergency caesarean and has since been discharged to recover in the care of a foster home with round-the-clock monitoring.
Mr Flanagan said her two puppies are fine and well.
"The person who dumped her would have known exactly what was going on," he added.
"They would have seen the dead puppy, and heard Bella howling in agony.
"They must have thought 'I don't want that vet bill, I can't afford that' and then left the crate on the doorstep of a well-off family who could sort it out.
"We need to find whoever did this so the RSPCA or police can speak to them."