Doctor Who: Tom Baker returns on camera for 1979 Shada serial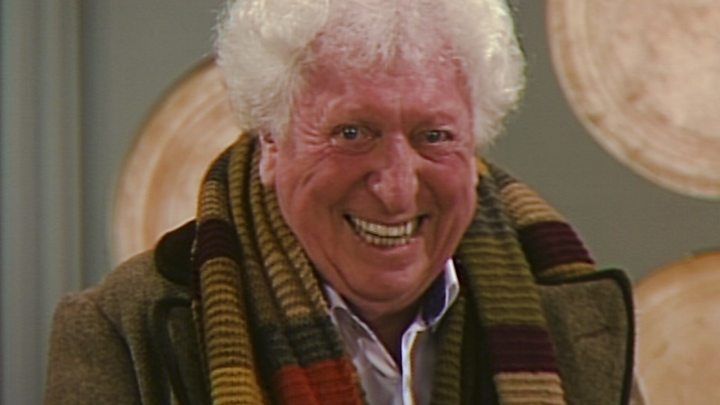 Tom Baker has made a surprise appearance on camera as Doctor Who, donning his trademark stripy scarf in a newly-released episode.
The 83-year-old actor has returned to complete the unfinished story Shada, filmed in Cambridge, 38 years after it was abandoned.
The parts not filmed in 1979 will be completed with animation and Baker's voice, but he has also filmed a scene.
Baker, the fourth Doctor, played the Time Lord between 1974 and 1981.
He is seen by fans of the show as one of the best actors in the role.
Filming for Shada, which was written by Douglas Adams at the same time as he was creating The Hitchhiker's Guide to the Galaxy, was started in 1979.
But strike action at the BBC meant studio scenes were never completed and the episodes were abandoned.
It has now been released by BBC Worldwide, with the original footage combined with new colour animations and voiceovers to complete the story.
In the new scene, Baker was filmed on the set of the original Tardis as it appeared in 1979.
Speaking about returning to the role, Baker said the Doctor "probably never left me".
"That's why I can't stay away from it, it was a lovely time of my life," he added.
"I loved doing Doctor Who, it was life to me. I used to dread the end of rehearsal because then real life would impinge on me. Doctor Who... when I was in full flight, then I was happy."
Of his time filming Shada in Cambridge in 1979, Baker said: "Mostly I remember being mocked by the students on the [River] Cam because I wasn't very good at punting, I kept losing the pole."
The newly-recorded lines from Baker as the Doctor and Lalla Ward as his companion Romana follow the original script by Douglas Adams.
The story finds the Doctor in Cambridge working alongside Romana and a retired Time Lord, Professor Chronotis, to defeat the evil alien Skagra who is attempting to steal the secrets to the prison planet Shada.
Jem Roberts, author of The Frood: The Authorised and Very Official History of Douglas Adams, said Adams later used the character Chronotis and parts of the plot in his novel Dirk Gently's Holistic Detective Agency.
"Adams was probably glad that Shada was not finished, so he could use it for the backbone of his novel. He was a great believer in recycling," he said.
Baker has returned to the role of the Doctor in audio plays and appeared as the Curator in the 2013 50th anniversary special The Day of the Doctor.
He last appeared on screen as the Doctor in a 1993 Children in Need special.
Shada is available to buy now as a digital download and will be released on DVD and Blu-ray on 4 December.