Tributes to conservationist Tony Whitten after cycle crash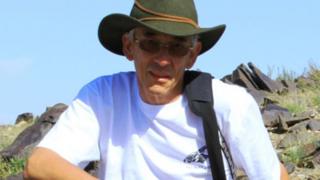 Tributes have been paid to a renowned conservationist who died in a cycle crash in Cambridge.
Dr Anthony Whitten, a senior advisor with Fauna and Flora International, was killed when his bike and a car collided in Newmarket Road on 29 November.
Colleagues described the 64-year-old as "remarkable" and "a giant of the conservation world".
Several new species - including beetles, slugs and recently, a gecko - have been named after him.
Dr Whitten, from Gilbert Road in Cambridge, died shortly after the crash between his bicycle and an orange Ford Focus C-Max at about 21:15 GMT.
'Irrepressible optimism'
The driver stopped at the scene and police are appealing for witnesses.
Paying tribute, Fauna and Flora International's deputy chief executive Rosalind Aveling said Dr Whitten had "an irrepressible optimism" and an "enthusiasm for cave creatures that bordered on obsession".
She added: "It is not surprising that he had 11 new species named for him, and he was particularly pleased that they might be viewed as small and uncharismatic, as it meant he could take up their cause and - as a consummate communicator - change that perception."
In a statement released through the organisation, Dr Whitten's family said it was "truly grateful for the outpouring of love and support from friends and colleagues around the world".
In October 2016, Dr Whitten was part of a team which discovered 15 new species of gecko in Myanmar, also known as Burma.
One of the species, Hemiphyllodactylus tonywhitteni, was named in his honour.
Fauna and Flora International was established in 1903 and counts Sir David Attenborough and David Bellamy among its vice presidents.