'Suicide pact' trial: Natasha Gordon found guilty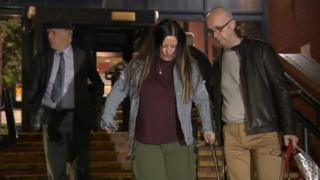 A woman has been found guilty of encouraging the suicide of a man she met online.
Natasha Gordon, 44, had denied encouraging or assisting in the death of Matthew Birkinshaw.
The 31-year-old postman, from Walsall, West Midlands, was found dead in his car at Rutland Water in December 2015.
Gordon, of Paston in Peterborough, was found guilty at Leicester Crown Court. Sentencing has been adjourned to a later date.
After the trial, Mr Birkinshaw's parents said it had been the "longest, hardest, saddest and most traumatic two years of our lives".
The court heard the pair made contact on an internet forum where Mr Birkinshaw spoke of ending his life.
Gordon had attempted to encourage six others to commit suicide and told the postman she was prepared to be his "suicide partner", prosecutor Tim Cray told the jury.
In a message to Mr Birkinshaw, Gordon said: "I really can't wait to go tomorrow, I hope you do not change your mind."
The court heard the pair travelled to Rutland Water together but Gordon left Mr Birkinshaw because she "couldn't go through with it".
Mr Cray said: "This is a million miles from a mercy killing. All the evidence shows she thought and talked about suicide and was prepared to tell people she'd just met that it was the right thing to do."
The court was told Mr Birkinshaw was in good health, part of a loving family and had a girlfriend.
His parents urged others "who may be struggling with these feelings" to seek out agencies that can help.
"If this message averts one tragedy, it will mean that something positive has come out of the death of such a beautiful and much-loved son," they said.
Gordon told the court she had no input into Mr Birkinshaw's decision to kill himself and he had "wanted to die".
She told the jury: "Matthew offered for me to go with him, it wasn't the other way round."
The court heard Gordon had a history of depression and in January 2015 had attempted to kill herself.