'Ventilator cake' thank you for Papworth Hospital staff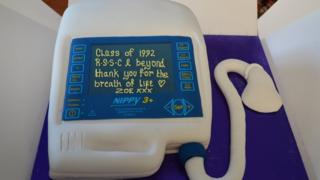 A woman has thanked hospital staff who saved her life with a cake shaped like the ventilator that has kept her alive.
Zoe Doughty was airlifted to Papworth Hospital near Cambridge as a 21-year-old student in 1992.
The art student - who was born with spina bifida - had collapsed with pneumonia at Wolverhampton University.
She presented staff 25 years on with a Victoria sponge worthy of a Bake Off showshopper. The doctor who cared for her at the time called it "wonderful".
Read more Cambridgeshire stories here
Miss Doughty, 46, lost consciousness in the A&E department at New Cross Hospital while studying.
"I was in there for a week, but they couldn't get me off the machine," she said.
"They basically told my parents that there was nothing more they could do for me."
However, her mother Zena pushed for her to be transferred to the then new respiratory unit at Papworth, after reading about the work of Dr John Shneerson and Dr Ian Smith.
She was airlifted to Cambridgeshire three days before Christmas.
"I don't remember much about it," she said. "They put me into an 'iron lung' to help with my breathing.
"When they started taking me off the ventilator for longer and longer periods, I thought 'that's that, thanks very much I'm fit now'. I didn't realise I had to take the ventilator home with me and sleep with it every night."
Dr Smith said: "Zoe is part of a quiet revolution in the care of people with breathing failure.
"Thirty years ago she would not have survived her illness, but the use of home ventilation with a mask at night has given thousands of people across the UK a long-term solution to their breathing problems.
"The cake was a wonderful, unexpected bonus."
The unusual creation was made by the chef at the nursing home where she works in Wolverhampton.