Cyclist Stewart Milne dies after Cambridge crash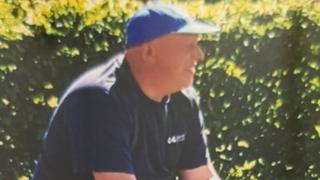 A cyclist who died after a crash in Cambridge was a father-of-three who "caused no harm in this world", his wife has said.
Stewart Milne, 44, was cycling on Trumpington High Street at about 10:30 GMT on 12 December when his bike collided with a Ford Focus.
Mr Milne, of Foster Road, Cambridge died two days later in Addenbrooke's Hospital.
Police have appealed for witnesses "as a matter of urgency".
Sgt Simon Goldsmith said: "This was a tragic incident and it's important we gain a better understanding of what happened."
In a statement, Mr Milne's wife said he "was the most kind and caring man and he gave me and my children the best in life and always put us before himself".
She added: "We spent 13 and a half years together and I have never felt love like I felt it from him.
"This man changed my life and we were the strongest couple there is.
"Stewart caused no harm in this world and I know there will be so many people who will be devastated by this awful news."