Brothers question murder charge in 'suicide pact' case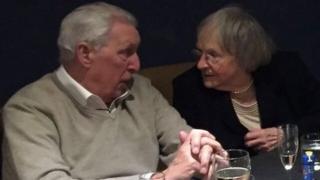 The sons of an elderly man who survived a "suicide pact" with their mother have demanded to know why he was facing a murder charge.
Brendon Constant, 87, later died in a fall in April while awaiting trial for the murder of his wife Jean.
A coroner concluded on Wednesday that Mrs Constant's death was suicide.
John and Simon Constant say evidence was withdrawn that would have helped their father. Prosecutors said the case was in the "public interest".
Mr Constant was accused of smothering his 86-year-old wife at Poppyfields care home in Eynesbury, near St Neots, Cambridgeshire, in August 2016.
A hearing at Cambridge Crown Court was told Mr Constant died in hospital in April after suffering "catastrophic" head injuries in a fall at home.
Mr Constant, of Richmond Road, Wisbech, had not entered a plea to the murder charge before his death.
In a statement released after their mother's inquest, the couple's sons said they were "baffled" by the Crown Prosecution Service's (CPS) decision to charge their father with murder.
They said police had analysed his computer and discovered "a suicide pact had been in our parents' contemplation for five or six years".
'Unbridled affection'
"It was always clear to us that our mother chose to end her life at a time when she found the prospect of going on unbearable," the statement read.
"At the time of his death, a murder charge was hanging over [our father]. He was 87, of good character and, in the words of the coroner, had been 'in a partnership of unbridled affection and dedication for over six decades'."
The brothers added: "It is our view that the CPS failed to properly review all of the evidence in this case and that they chose not to disclose material which significantly undermined their case."
However, a spokesperson for the CPS defended the decision to charge Mr Constant.
He said: "We considered the public interest in this case very carefully given Mr Constant's age and the alleged motive for his actions.
"The fact that Mr Constant had made searches about suicide pacts did not undermine the prosecution case."