Cambridge burglary victim reunited with photo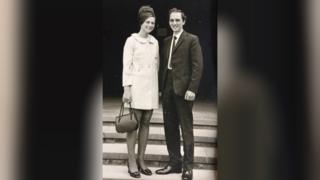 A woman who had a precious photo of her late husband stolen in a distraction burglary has been reunited with it.
Susan Horrod, 70, had her handbag containing the photo stolen from her home in Milton, Cambridge.
Rower Stephanie Creasey spotted a piece of cardboard floating in the River Cam and fished it out, seeing it was a 1960s photo of a glamorous couple.
A Facebook post found the owner and the photo was returned, with Mrs Horrod's family describing it as "amazing".
"It's amazing to have it back in such good condition," said Mrs Horrod's son Martin, 42, also from Milton.
"My mother is particularly pleased to get the photo back as it was an original.
"There was actually no water damage - the frame had disintegrated but the photo remained intact. It looks perfect."
The picture shows Mr Horrod's mother and father at a friend's wedding in Cambridgeshire and is a particularly fond memory of hers.
"Mum is always telling stories about why she remembers it," he said.
"There were a few photos that she liked to take everywhere with her to keep them safe, and that was one of them."
Ms Creasey, a teacher who lives in Chesterton, Cambridge, has been rowing for eight years but said she had never come across such an interesting object in the water before.
"I'm really interested in old photos and social history, and I thought I'd share the photo on a Facebook page called Cambridge in the Good old Days 1960s," she said.
"Less than an hour after I'd shared it, someone recognised the man in it as a former colleague of hers.
"I managed to make contact with the woman's family and eventually took the photo back to her."