Blackcaps wintering in Cambridge help spread mistletoe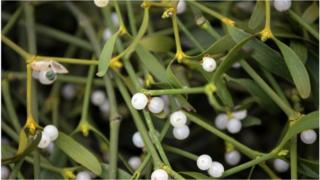 A link between climate change, a migratory bird and an abundance of mistletoe in Cambridge has been found.
A study of the city's natural history has discovered the plant is present in unexpectedly large quantities.
Blackcaps which feed on mistletoe are staying in the city instead of migrating and are spreading its seeds.
Kissing under the mistletoe is a Christmas tradition, but its roots are in Druidical, Viking and Celtic mythology.
NatHistCam studied a five-mile by five-mile (8km by 8km) square of the city, roughly centred on Mill Road Cemetery, and discovered unexpected amounts of the plant and also blackcaps wintering in the area.
The Cambridge survey was designed to create a snapshot of the flora and fauna of the city.
Researchers said the mystery of why it has so much mistletoe has been answered.
The bird usually flies off as winter approaches, but in recent years has stayed in the city as the weather has become warmer.
While feeding on mistletoe the birds smear seeds on to trees which helps spread the plant, the survey group said.
Bob Jarman of the Cambridge Bird club, who is researching overwintering blackcaps, said: "The blackcaps are traditionally migratory birds who are here for the summer and then head to warmer climes for the winter."
The RSPB said that since the 1960s, more of them had started to winter here because of climate change.