'Busiest Christmas' for East of England Ambulance Service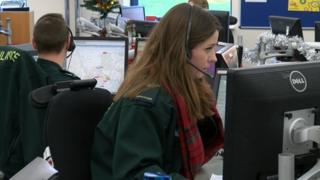 An ambulance service says it experienced its busiest ever Christmas.
The East of England Ambulance Ambulance Service (EEAS) took 4,200 calls on Boxing Day, while snowy conditions on Wednesday led to another busy day.
The service covers Bedfordshire, Hertfordshire, Essex, Norfolk, Suffolk and Cambridgeshire.
Paul Henry, deputy director of operations support, said: "We always expect high work demand at this time of year and this year is no exception."
"It's the culmination of people with seasonal illness, the usual stuff on the roads and everything else that goes with partying and enjoying oneself," he added.
The service said it usually received about 3,000 calls a day, and on Boxing Day 2016 had 3,486.
Mr Henry said he expected the busy period to continue into the new year, but he was confident the service was "prepared resource wise".
"We will cope well," he said. "We have very good staff who always go the extra mile."
The ambulance service has also reissued advice for people to use the NHS Choices website, pharmacies, NHS 111, walk-in centres and GP surgeries if they require medical advice.