Sue Ryder Thorpe Hall Hospice's letter to Christmas thief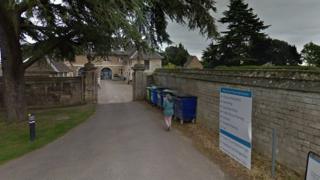 A charity has written an open letter to a thief who stole a donation box from one of its hospices on Christmas Day.
It was taken from the Sue Ryder Thorpe Hall Hospice in Peterborough.
Hospice director Allison Mann and the Sue Ryder Thorpe Hall Hospice team posted the open letter on its website.
It said the money taken was "given to us so we can provide care and support to people who are dying from conditions like cancer, heart failure or lung disease".
It continued: "The box you stole contained money which the families and friends of patients had generously donated to say thank you for the care their loved ones received; money which was meant to help fund the care we give to patients at the most difficult time of their lives."
The charity, which does not know how much money was taken, said the hospice doors were unlocked at 05:30 GMT on Christmas Day so "the family of a patient who had just died could come in and say their final goodbyes".
"We just wanted to let you know all this," the letter added.
"It saddens us that you felt driven to do what you did. But thankfully because of the generosity of local people, groups and businesses we'll still be here to provide care for people when they need it.
"Obviously we hope you never need us but we'll be here for you too if you do."
Insp Terry Furlong, of Cambridgeshire Police, said: "Whoever has done this is beyond contempt and [we] will do everything [we] can to track down the thief."
Anyone with information should contact the force,