Donations after Peterborough Sue Ryder hospice theft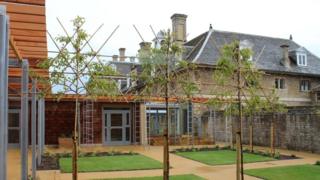 A charity says it has had an "overwhelming" response after a thief stole a donation box from one of its hospices on Christmas Day.
About £250 was taken from Sue Ryder's Thorpe Hall centre in Peterborough.
Afterwards, the charity wrote an open letter to the thief on its website, prompting more than £1,000 in donations to be delivered in person, with more raised online.
"So many people have helped," said Hospice director Allison Mann.
It is believed the suspect got in through a door which had been left unlocked so "the family of a patient who had just died could come in and say their final goodbyes".
No arrest
"A golf club have arranged some impromptu fundraising at one of their events, while another supporter has pledged to do a [sponsored] sky dive," said Ms Mann, speaking to BBC Radio Cambridgeshire.
A local mosque has donated £500 and anonymous person handed staff £250.
Thorpe Hall said it had also had a pledged made by a woman from New Zealand who had read about the theft.
Sue Ryder said it could not be certain how much has been raised specifically for Thorpe Hall by online donations on its website.
No-one has been arrested in connection to the theft, which took place at around 05:30 GMT, and police are continuing to appeal for information.
Addressing the person responsible, the charity wrote: "Obviously we hope you never need us but we'll be here for you too if you do."