'Kebab' officer 'had not taken break' during 10-hour shift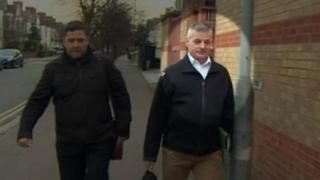 A policeman who ate a kebab in his police car while his colleagues searched for him had not taken a break during a 10-hour shift, a misconduct hearing has been told.
PC Richard Musgrave, 52, of March, Cambridgeshire, had parked up instead of clocking off on 31 July 2016.
He admitted lying to his line manager that his watch had stopped, but said he had not heard his mobile ring and that his earpiece had "come apart".
PC Musgrave denies gross misconduct.
The hearing, in Peterborough, was told PC Musgrave had joined the police in 2005 after serving with the Household Cavalry.
Panel chairman John Bassett heard that on 30 July the officer had worked from 17:00 to 03:00 as a uniformed single crew, using a marked vehicle.
He had not taken a refreshment break in that time, it was said.
PC Musgrave left his base in March at about 02:45 to "give his wife a lift home" after she called him, and admitted she had bought him the fast food.
He then parked up in the Hundred Road industrial estate to eat alone - claiming to his line manager Sgt Rob Savile that he was "writing up a statement".
The following day, PC Musgrave worked from 15:00 until 00:00, the hearing was told.
He was captured on CCTV footage at about 00:07 driving by the Hippodrome pub in March. He said his "attention was drawn to a group who flagged him down".
'Not diligent'
The group was acting in a drunken and aggressive manner inside the pub but he did not take steps to address this, the hearing was told.
He said he was "trying to be diplomatic" as it was "standard anti-social behaviour".
Among them was his wife of almost 33 years, Linda - who PC Musgrave thought was at home.
A statement he signed in October 2016 about the incident was "incomplete and lacked detail", Mr Bassett was told.
The hearing continues.