Cambridge flats plan for fire-hit hotel set to go ahead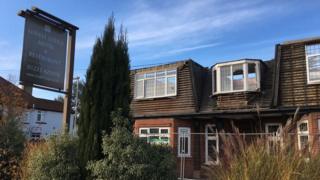 Plans to demolish a fire-ravaged guest house and build flats are expected to be approved by a council.
Lovell Lodge was wrecked when fire ripped through the building in Cambridge on 5 June 2016.
Developers Twenty Nine Architecture said it was "not viable" to return to its former use. Concerns had since been raised about on-street parking.
A report to Cambridge City Council says the flats "would enhance the character and appearance of the area".
"The proposal would respect the amenities of neighbouring properties and would not have a harmful impact on on-street parking".
The council's planning committee will discuss the application on Wednesday.
Lovell Lodge has been empty since the fire, which started during breakfast time in the kitchen and caused "irreplaceable damage" to the building and roof, according to developers.
Under the proposals, the Milton Road site will be demolished and replaced with 14 flats - a mixture of studios, one-bedroom and two-bedroom.
The loss of the hotel would be "acceptable" as it had "limited architectural merit" and would be replaced with permanent accommodation, the report states.
The building would have a "similar footprint" to the former hotel, but would include an extra storey with three floors.
Parking would equate to six spaces - the same as the 23-bedroom hotel - and there would be a communal garden.
Cambridgeshire County Council said the development could affect on-street parking in the area, but was unlikely to create road safety issues.
It has recommended a series of conditions to lessen the impact on parking for other residents.
The developer must also contribute £18,000 to a nearby community centre and open space and just under £9,000 for North Cambridge Academy under Section 106.
At the time of the fire, six crews from Cambridgeshire Fire and Rescue tackled the flames.
Forty people were led to safety. No-one needed hospital treatment.