Lego model of Cambridge classicist Prof Mary Beard created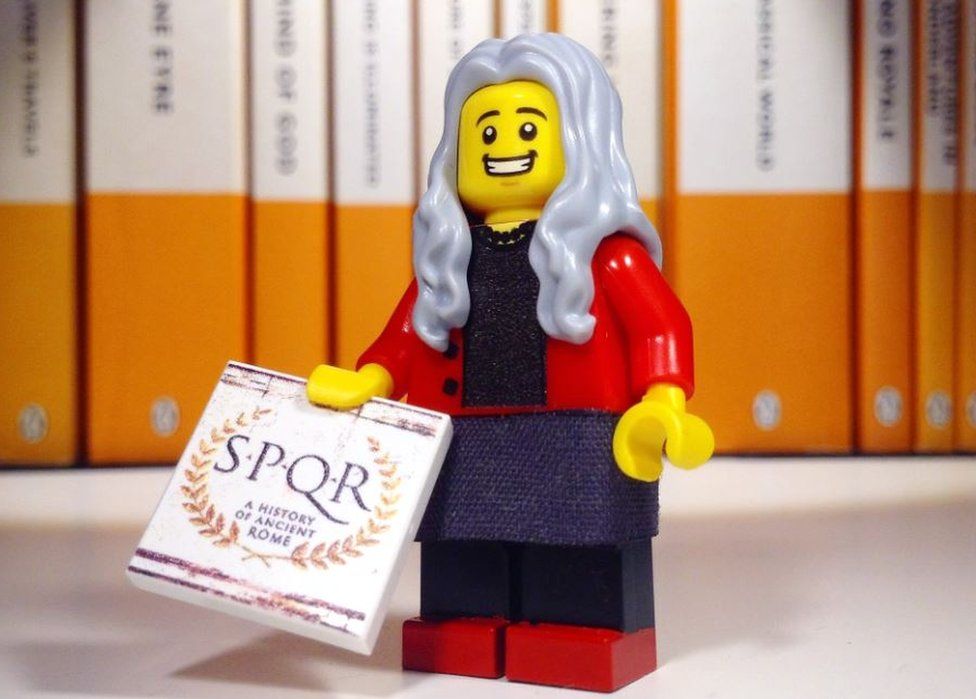 A Lego model of classicist and TV presenter Prof Mary Beard has been created to celebrate the work of the Cambridge University academic.
The model, which uses genuine Lego parts, was made by Liam D Jensen - a historical archivist from Australia.
Mr Jensen has created a number of models of classical academics, but his latest took about 18 months as she was "particularly tricky" to get right.
He sent the model to Prof Beard, who said she was "very flattered".
They are not for sale and he only creates one-off models which he sends to the academics.
He has made 50 so far, including Prof Andrew Wallace-Hadrill, another Cambridge classicist, and Getty Museum director, archaeologist Dr Timothy Potts.
"When I make a figure, the main question I ask is, 'What would the person I see look like in a world made of Lego?', not 'How would I make a Lego figure look like the person?', as these are two completely different realities," Mr Jensen said.
Prof Beard took a while to perfect as he does it in his spare time.
Also, she was "particularly tricky to get just right" as she is "visually unique and surprisingly subtle", he added.
Prof Beard's Cambridge college, Newnham, took to Twitter to ask: "Hands-up who wants a Lego version of Newnham's @wmarybeard?"
The Shropshire-born professor replied: "I'd buy a couple (she says a bit vainly!)."
Comments from fans include "awesome", "random" and "I want one".
Mr Jensen's Lego Mary Beard is the second time the classicist has been immortalised in toy brick form.
She also featured in a Lego version of Pompeii, at the Nicholson Museum in Sydney, Australia.
Related Internet Links
The BBC is not responsible for the content of external sites.