Lost ski led to Chamonix deaths, says rescuer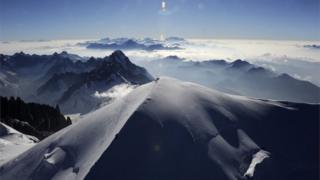 Two British skiers who plunged to their deaths in the French Alps died after one of them lost a ski, a mountain rescue expert has said.
Oscar Cassagneau-Francis and Rajen Mahendra, both 26, fell several hundred metres while off-piste in the Chamonix-Mont-Blanc region on Sunday.
Denis Rondot, a guide who works for the French police said the first man tried to continue on one ski before he fell and the other "went down and fell".
Both of the men were from Cambridge.
Three men were in the group, skiing in the Grands Montets area on Sunday morning when the accident happened.
"They were skiing off-piste. They followed a ski track and went down into the Couloir du Chapeau," M Rondot, a mountain rescue expert and guide who works for the Le Peloton de Gendarmerie de Haute Montagne (PGHM), told the BBC.
"One person fell down and lost a ski - he tried to ski on one ski, but then he fell again.
"His brother tried to go to see [him], then the third man went down and he fell as well."
The first skier's brother was not hurt and raised the alarm, he added.
Rescuers arrived within 10 minutes but both skiers who fell were pronounced dead at the scene, a PGHM spokesman said.
M Rondot was in the helicopter that recovered the body of the first skier to fall.
Tributes have been paid to the Cambridge skiers.
Mr Cassagneau-Francis was "forever smiling", old school friends said, while Mr Mahendra was described as "friendly and kind".
The Foreign Office said it was providing support to their families.