Wisbech fountain to be repaired 'just one more time'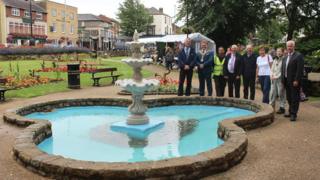 A council has said it will repair a town's fountain, damaged by "senseless" vandalism, just once more.
Fenland District Council said the feature in St Peter's Church gardens, Wisbech, Cambridgeshire, was destroyed this week for the second time in eight months.
Councillor Peter Murphy said it would cost about £3,000 to replace the fountain and the surrounding pond.
He said the council could not afford to keep repairing it.
The authority said the fountain was smashed to pieces on Monday after being pushed over.
The feature was replaced in June after the previous fountain was destroyed the month before.
Mr Murphy said: "We had hoped when it was replaced last year that it would be respected and looked after for years to come.
"Sadly it has been wrecked by vandals once again, to the outrage and frustration of many in the community.
"It will cost around £3,000 to replace the fountain and repair the pond, and take around eight weeks for the work to be completed, but this will be the last time the council can repair it.
"We don't want to be defeated by these senseless criminals but we can't afford to keep spending taxpayers' money repairing the damage they cause."