Suffragist Millicent Fawcett commemorated with blue plaque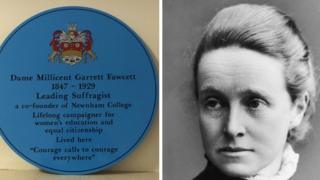 A blue plaque to commemorate leading suffragist Millicent Fawcett has been unveiled.
The equal rights campaigner, who dedicated her life to getting the women's vote, also co-founded the all-female Newnham College at Cambridge University in 1871.
The plaque was revealed at Cambridge's Guildhall and will be placed next to her husband's at their old city home.
City council leader Lewis Herbert said "this rights another inequality".
"The only current reference to Millicent on Henry's plaque is that Henry [Fawcett] 'lived there with his wife and daughter'," Mr Herbert added.
Mr Fawcett, a former MP and postmaster general, introduced parcel post and postal orders. He died from pneumonia in 1884.
Dame Millicent formed the National Union of Women's Suffrage Societies in 1897, which used peaceful tactics to campaign, including non-violent demonstrations, petitions and the lobbying of MPs.
Out of the suffragist movement came the suffragettes - the more radical and militant group led by Emmeline Pankhurst.
Dame Millicent died in 1929, a year after women were granted the vote on equal terms to men.
The Cambridge college she founded with just five students now has 650 undergraduate and graduate students.
Newnham College has paid for the plaque, which was unveiled at the Cambridge Guildhall on Tuesday and will be moved to the suffragist's former home on Trumpington Road.
Jemima Olchawski, from the Fawcett Society, said: "The battles she fought for genuinely equal citizenship are still very relevant today.
"One hundred years on from some women securing the vote, women everywhere have been calling out discrimination and taking the fight forwards."
The plaque unveiling comes on the 100th anniversary of some women getting the vote in the UK.
She is also set to be the first woman to be honoured with a statue in Parliament Square, designed by Turner Prize-winning artist Gillian Wearing, later this year.