Cambridgeshire Police custody staff 'clearly stretched'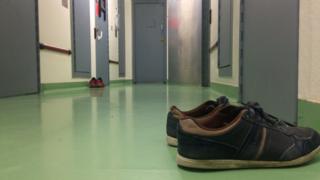 The staffing of police custody cells in Cambridgeshire is sometimes not enough to ensure the safety of detainees, a report has found.
A spot check carried out in August by Her Majesty's Inspectorate of Prisons found that "on occasion staff were clearly stretched".
It also described the force's alliance with neighbouring Bedfordshire and Hertfordshire as "underdeveloped".
The overall report has been welcomed by Cambridgeshire Police as "positive".
More Cambridgeshire stories here
Inspectors said they were "concerned to find that minimum staffing levels within custody suites were not always complied with".
It added: "Staff cover was not always sufficient to ensure safe detention."
The inspection, carried out between 7 and 18 August, looked at Cambridgeshire's five main custody suites in Peterborough, Huntingdon, Cambridge, March, and King's Lynn in neighbouring Norfolk.
It did note improved care of vulnerable detainees across the county's 70 custody cells.
Daily cell checks were "comprehensive" and the report praised the treatment of children in custody, as well as the introduction of mental health nurses in the force control room.
However, it said a tri-force collaboration with neighbouring Bedfordshire and Hertfordshire had led to a "lack of accountability and scrutiny".
The alliance - in place since 2014 - means the three counties share responsibility for some police departments, such as finance and firearms licensing.
The report said: "The collaborative arrangements for custody services did not provide sufficient accountability at senior officer level.
"Until this is addressed we believe that this will remain a block to the custodial function in Cambridgeshire becoming even better."
Cambridgeshire Police Assistant Chief Constable Dan Vajzovic said: "Overall the inspection into Cambridgeshire Constabulary's custody suites has been positive.
"We welcome their recognition that we have good levels of care and concern for the most vulnerable people we deal with."
He added: "We acknowledge the inspector's area of concern and the recommendation, which we will be looking at, and we are already putting plans in place to improve in the areas highlighted."