Cambridgeshire Police apologise for 'body in carpet' advert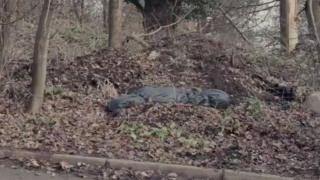 Police have apologised for an advert that showed a wrapped up carpet looking like a dumped body.
Cambridgeshire Police wanted people to think twice about calling 999 when the issue is not an emergency, but the advert left people feeling confused.
One person asked if they were supposed to unroll the carpet to check for bodies before calling 999, as reported in the Cambridge News.
Police apologised, adding: "Obviously if you find a body please contact us."
The advert shows a carpet dumped at the side of a wooded road, tied up to resemble a body.
Text across the film shows an invented conversation between a 999 call handler and a member of the public, with the dialogue switching between someone calling about a dumped body and a dumped carpet.
The advert's intended message - that "not all calls are policing matters" and that fly-tipping should be reported to the council - is shown at the end.
One person on social media asked if they should "report a suspicious body shaped bundle as fly tipping, possibly leaving a murder scene undiscovered for weeks".
The carpet advert is one of two being used, with the other involving a caller saying "someone's taken my bike/taken my brother".
Apologising for any confusion, a police spokesman said: "When something is a policing matter we are here, but in order for us to provide the best service possible we need the public to think about whether we are the most appropriate people to contact in a given situation."
The films were originally made by Surrey Police and rebranded by the Cambridgeshire force.
One of Surrey's original videos involving concerns over crying children - were they being noisy or being abused - was withdrawn after complaints to the Advertising Standards Authority last year.