Welney's hand-reared 'rare' godwits reach Portugal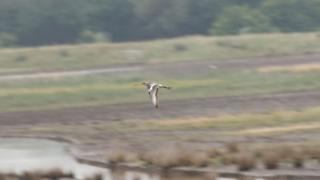 Two birds hand-reared by conservationists have been spotted "safe and sound" more than 1,000 miles (1,609 km) from where they were raised.
The black-tailed godwits are among 26 birds hatched in May at the Wildfowl and Wetlands Trust in Welney, on the Cambridgeshire and Norfolk border.
The pair have been seen among a flock on the Tagus Estuary in Portugal.
The ground-nesting birds are vulnerable to spring floods and are on the UK's "red-list" for endangered species.
Project Godwit's manager Hannah Ward said: "Bird migration is an amazing feat and it's fraught with dangers.
"It's a huge relief to hear they have both made it to the same spot in Portugal, safe and sound."
It is the first time any of the hand-reared birds have been seen outside the UK.
Project Godwit, which is a joint RSPB and Wildfowl and Wetlands Trust scheme, was granted a licence from Natural England to collect 32 eggs.
They were incubated at Welney on the Ouse Washes in a method called "headstarting".
Staff believe it is the first time the method has been used to help a species in decline in the UK.
The hand-reared chicks were moved into an enclosed aviary at about three weeks old.
They were ringed and released into the wild in June.
The UK breeding population of black-tailed godwits is down to 50 pairs, the majority of which are found in the Nene Washes in Cambridgeshire and the Ouse Washes.