Papworth Hospital marks 'pioneering' century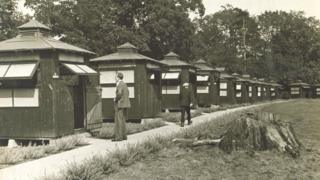 A hospital set up to treat tuberculosis patients with experimental treatments, including open air bedroom huts, is marking its centenary.
Discharged soldiers from France and Belgium were among the first 17 patients to arrive at Papworth Hall in Cambridgeshire on 12 February 1918.
Royal Papworth Hospital NHS Foundation Trust is now a globally recognised heart and lung transplant centre.
CEO Stephen Posey said the hospital "continues to inspire breakthroughs".
Pendrill Varrier-Jones moved the Cambridgeshire Tuberculosis Colony to Papworth thanks to a £5,000 donation.
The doctor believed fresh air and light work would help patients recover in what was then an "experimental" scheme, according to the hospital.
Other early TB treatments were more brutal, including collapsing the lung in the belief the diseased lobe would heal more quickly by resting it.
Former TB patient David Coles was diagnosed aged 19, during his National Service medical examination in 1948.
It was cured with antibiotics and he convalesced in one of the "TB huts".
He said: "The doors and the flaps were open all day long - no matter what time of year.
"It was very cold and there was nothing to do unless you had your own wireless with you."
Mr Coles returned to Papworth in 1961 and 1966 for surgery to rectify the damage to his lungs sustained during his treatment.
John Wallwork, chairman of Royal Papworth Hospital NHS Foundation Trust, said such surgery on TB patients led to the hospital moving into other types of heart and lung surgery.
The professor said: "Once we started performing UK and world 'firsts' - like the first successful heart transplant in the UK in 1979 or the world's first heart, lung and liver transplant in 1986 - we became known all over the world."
Mr Posey said: "The same pioneering spirit with which Pendrill Varrier-Jones established the hospital 100 years ago continues to inspire breakthroughs in patient care and treatment today."
The hospital will move to a new base on the Biomedical Campus in Cambridge in September.