Scott and Shackleton polar explorer chalk penguin drawings saved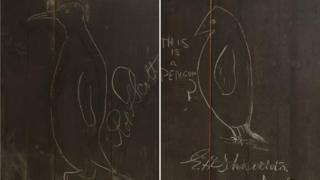 Signed chalk drawings of penguins by polar explorers Robert Falcon Scott and Ernest Shackleton have been saved from future damage by a museum.
The sketches were made on blackboards by the explorers during public lectures in Manchester in the early 1900s.
They were eventually donated to the Scott Polar Museum in Cambridge.
Conservator Sophie Rowe said preserving them was "quite stressful" as a "sneeze or accidental touch could cause irreparable damage".
The public lectures were held at the Whitworth Hall, which is now part of the University of Manchester - Scott's in 1904 and Shackleton's in 1906.
Staff at the hall kept the blackboards for years, before getting rid of them in the 1950s.
Ms Rowe said: "By a minor miracle, they were found in a skip and rescued - virtually undamaged."
The blackboards were donated to the Scott Polar Museum and stored in cases made from wood, MDF and Perspex.
Curator Charlotte Connelly said: "This was not up to modern standards as it is both very heavy and the Perspex created static which was gently pulling away the chalk particles."
The blackboards have now been put in lighter frames which allow air to circulate, while the fronts have been protected with rigid archival corrugated card.
Ms Rowe said: "The only downside to the card is that you can't see through it, but it is easy to open the new enclosure like a book to see the object inside."
The blackboards will eventually be put on display as part of a future exhibition.