Amey Waterbeach anti-incinerator petition tops 1,600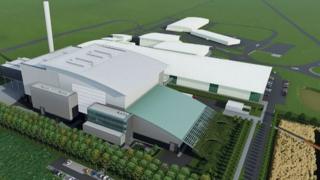 More than 1,600 people have signed a petition to try to stop a new incinerator being built near Cambridge.
Waste management company Amey wants to build the £200m plant at Waterbeach, which it says will generate enough electricity for 63,000 homes.
Opponents claim emissions from such plants cause respiratory issues and can cause cancers and diseases such as dementia.
The company said pollutants would be burned off and emissions regulated.
The incinerator, planned for the company's existing site, will convert household and business waste - which would otherwise go to landfill - into electricity, heat or a mixture of both.
There have already been concerns about the height of the chimney, which at 80ft (24m) would be taller than Ely Cathedral.
"Unborn babies, infants and children are most at risk from incinerator emissions, research has proven," the petition states.
It further links emissions to autism, dyslexia, attention deficit and hyperactivity disorder (ADHD) and dementia.
'Controlled process'
Ian Clarke, technical director at Amey, said processes at the plant would ensure emissions were kept within stipulated levels.
"Whenever you burn anything you generate emissions," he said.
"The key is... this is a very controlled process.
"We burn it at a set temperature for a certain amount of time and that ensures the emissions - the pollutants - that are driven off are combusted and what we're left with are very small trace elements of pollutants and those are cleaned up through our gas treatment process."
He said the waste site is already "highly regulated" by the Environment Agency which sets "very strict" emission levels which the company must not exceed.
The planning application has been submitted to Cambridgeshire County Council.