Lorry wedged on Cambridge scaffolding during Sainsbury's delivery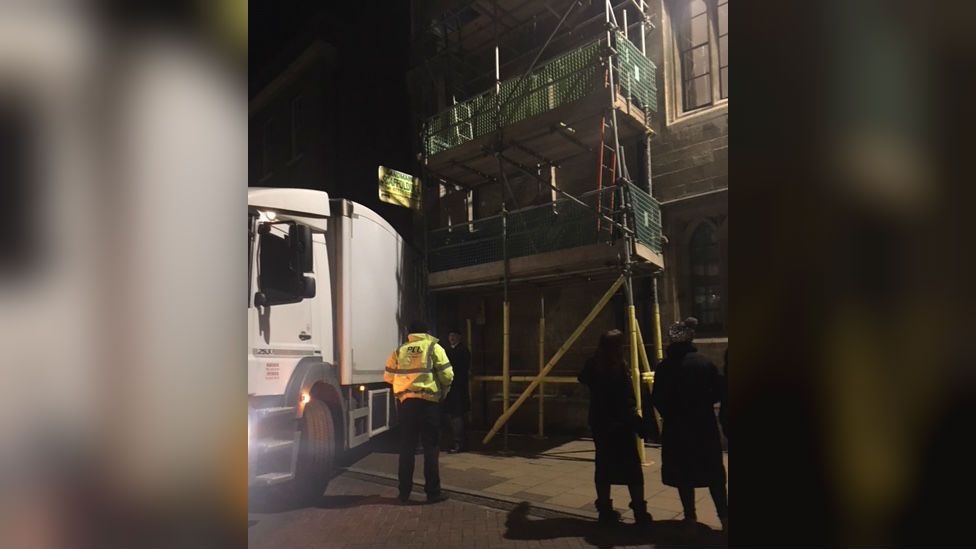 A hole was ripped in the side of a lorry delivering to a Sainsbury's store after it became wedged on scaffolding.
Onlookers heard "screeching and banging" as it got stuck near the supermarket on Sidney Street, Cambridge at about 19:45 GMT on Thursday.
No-one was injured and the lorry was removed by about 21:15.
The lorry crashed into the scaffolding on the side of a building that includes Cambridge University student accommodation.
Officers from Cambridgeshire Police were called to "reports of a lorry wedged against scaffolding... and concerns that if the lorry moved the scaffolding would come down", a force spokeswoman said.
University student Sophie Dickinson, who was heading to Sainsbury's at the time, told the BBC she heard "a lot of loud screeching and banging" as the lorry became "properly attached" to the steel rods.
"The scaffolding went into the side of the lorry," she said, adding the driver was "very worried and distressed".
Scaffold specialists were brought in to dismantle the structure before the lorry was able to move.
A Sainsbury's spokesman said: "We can confirm there was an incident outside our Sidney Street store last night. Thankfully no one was injured. We're sorry for any inconvenience this may have caused."
Related Internet Links
The BBC is not responsible for the content of external sites.