Washing machine lorry catches fire on A1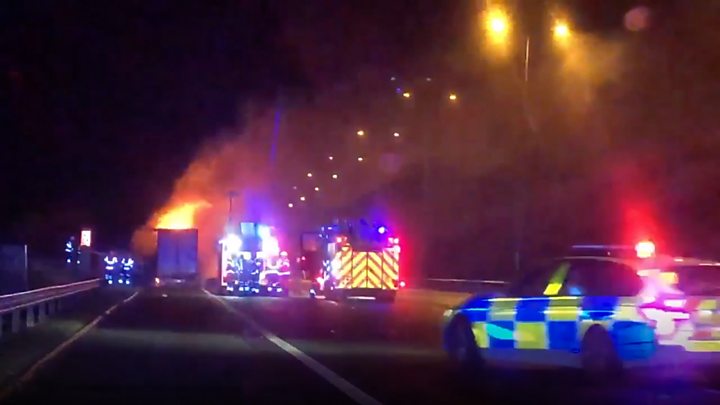 A motorway was closed after a lorry full of washing machines caught fire.
The blaze started at about 03:50 GMT on the northbound A1(M) between Sawtry and Glatton, near Peterborough.
No-one was injured but the lorry was partially destroyed, the washing machines were charred and the carriageway was damaged.
Three lanes remained closed during the rush hour while debris was removed and the lorry towed. The machines were taken away in two skips.
About 15 firefighters wearing breathing apparatus fought the blaze for nearly two hours.
The outside lane of the four-lane carriageway was reopened to allow traffic to pass, but debris on the road and the large pile of partially-burnt washing machines on the verge meant the others remained closed for some time.
The lorry was lifted away by crane and the machines, which are believed to have been brand new, were removed.
Cambridgeshire Fire and Rescue Service said the fire was accidental.
Highways England reopened the road fully at about 10:15.