St Ives honours its World War One poet pilot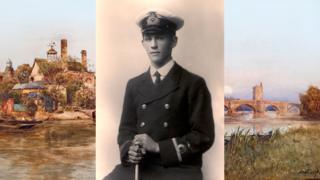 A World War One poet pilot shot down aged 21 in 1918 is being commemorated in his home town.
Miles Jeffery Day, who grew up in St Ives in Cambridgeshire, wrote poems describing his "joy of flying" and his love of the Fenland landscape.
Organiser Ian Jackson said most St Ives residents have no idea the pilot, who is remembered with his brother on the town's war memorial, was also a poet.
Day's poems and letters will be read at an event at The St Ives Corn Exchange.
Mr Jackson said: "I want the whole town to know what a special man he was."
Day joined the Royal Navy Air Service aged 18, initially as a test pilot.
He later went into combat and in February 1918 was shot down over the North Sea.
Mr Jackson said: "He managed to land his flaming Sopwith Camel on the sea, waved his companions back home and was never seen again, presumed drowned."
Excerpt from The North Sea, by Jeffery Day
Dawn on the drab North Sea ! —
colourless, cold, and depressing,
with the sun that we long to see
refraining from his blessing.
To the westward — sombre as doom :
to the eastward — grey and foreboding :
Comes a low, vibrating boom —
the sound of a mine exploding.
It was St Ives-based poet Andrea Porter who suggested the town should mark the centenary of Day's death.
She said: "A poet and a flyer is very rare - and all the great World War One poets were in the infantry.
"There's a lot in his poems about the joy of flying and you can tell he did not expect to survive."
The pilot's niece, Sheila Day, 87, is "absolutely delighted" his death is being marked.
She said: "My father always spoke about Jeff, as he was known, and he was a very vibrant character."
Three of Day's poems were published in his lifetime - in the Spectator and Cornhill magazines - and the rest published privately by his parents after his death.
Some of the poems are now available online.