Prof Stephen Hawking's 'gift' for Cambridge charity meal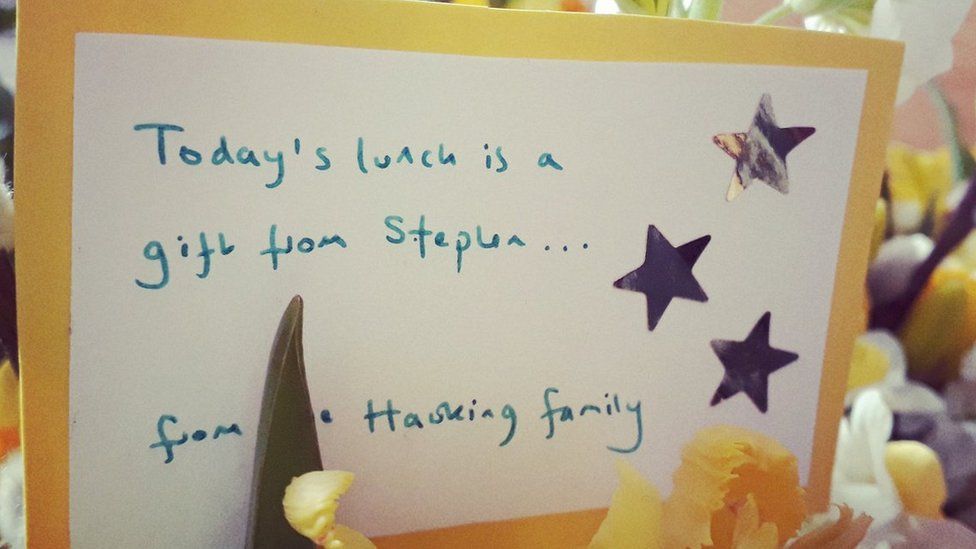 The family of Prof Stephen Hawking helped a charity host an Easter lunch on the day of his funeral.
FoodCycle, which provides meals to the hungry and lonely, said it was able to serve lunch in a specially-decorated room and give gifts to 50 guests.
The physicist's relatives made a donation towards Saturday's event in Cambridge, described as a "gift from Stephen".
Alex Collis, from the charity, said the family's gesture was "very kind".
Money donated by the Hawkings had made the room "look extra nice and Eastery" and enabled the charity to buy treats for diners who "often don't have a lot", she said.
"They wanted to do something to support people going through a tough time," she said.
"It was a really lovely gesture.... and very kind of them to think of FoodCycle."
The meal was prepared from fresh food that would otherwise be dumped - and was collected from the charity's usual suppliers.
Charity volunteers have been cooking meals every Saturday at Wesley Methodist Church in Cambridge city centre for eight years.
It is one of nearly 40 FoodCycle projects across the UK.
Nearby on Saturday, crowds lined the streets outside Great St Mary's church to bid farewell to Prof Hawking, who died last month aged 76.
The visionary scientist had been a fellow of Gonville and Caius College for 52 years.
Related Internet Links
The BBC is not responsible for the content of external sites.