Delayed Ely Southern Bypass in £13m overspend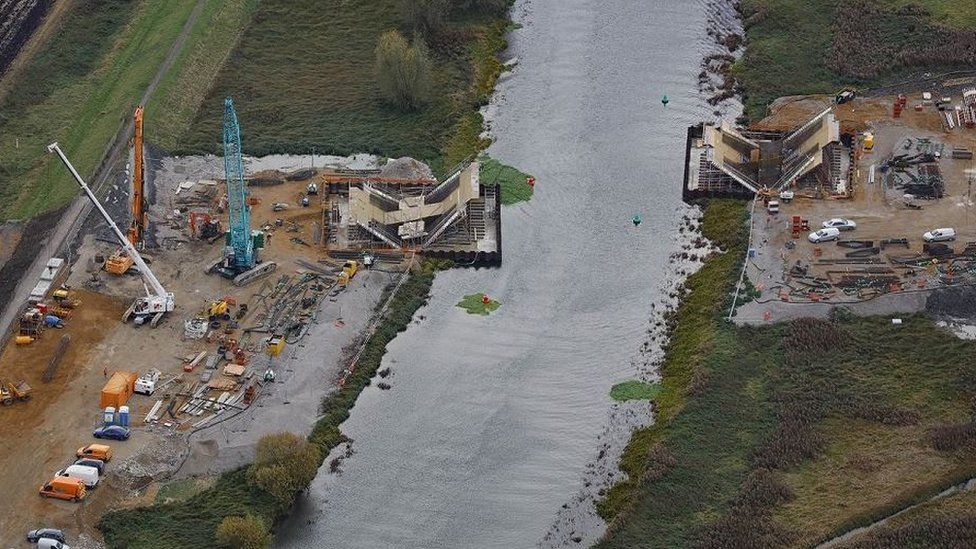 The cost of a bypass for the Fenland city of Ely has spiralled to £13m over its initial budget and completion will be delayed by several months.
Work began on the £36m Ely Southern Bypass in January 2017 and the road was expected to open by late summer 2018.
However, the county council said "tricky conditions" including a floodplain and working near a "national heritage site" meant costs spiralled.
The road is now expected to open in October.
The one-mile (1.7km) road linking the A142 at Soham with the A10 south of Ely is intended to take thousands of vehicles away from the centre of Ely and solve bottlenecks caused by a level crossing and an accident-prone low bridge.
However, while Cambridgeshire County Council has said "construction is progressing well", it has now admitted that "working under tricky conditions such as building on a floodplain and near a national heritage site has meant costs have increased by £13m, which we're working with our contractor to minimise".
A spokesman added: "The depth of the foundations for the river viaduct is two thirds the height of the cathedral - much more than expected.
"Also, as Ely Cathedral is a national heritage site, a unique, specially-designed viaduct needed to be created which has given the team significant challenges."
However, it added council officials were working closely with the contractor and hoped to have the route open "as soon as possible".
The scheme, which has been 20 years in the planning, is being funded by Cambridgeshire County Council, East Cambridgeshire District Council, Network Rail and the Greater Cambridge Greater Peterborough Local Enterprise Partnership.
Related Internet Links
The BBC is not responsible for the content of external sites.