Waterbeach level crossing driver arrested after car hit by train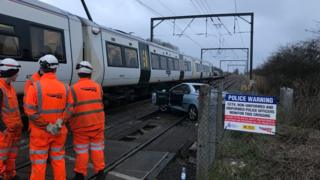 A 44-year-old woman has been arrested after a car was hit by a train on a level crossing.
The crash happened at about 17:40 BST on 29 March near Waterbeach station in Cambridgeshire and the woman was taken to hospital with minor injuries.
She has been arrested on suspicion of causing an unlawful act with intent to endanger safety on railway and driver failure to provide a specimen.
The woman, from Cambridgeshire, has been released on bail until 26 April.