BBC journalist Sally Chidzoy loses tribunal appeal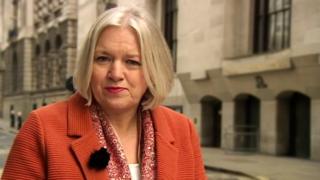 A BBC journalist who claimed she was sexually discriminated against has lost an appeal against her tribunal claim being struck out.
Sally Chidzoy, home affairs correspondent for BBC Look East, was also alleging victimisation and harassment against the corporation.
Her case was thrown out after she was caught speaking to a newspaper reporter who was covering the tribunal in February 2017 during a break.
A senior judge dismissed the appeal.
The panel said at the time she had lost the "necessary trust" of the tribunal and the claim was thrown out halfway through the hearing.
Judge Jennifer Eady QC, sitting at the Employment Appeal Tribunal in central London, said: "Having reached the conclusion it did, as to the irretrievable loss of trust arising from the claimant's conduct, the ET [employment tribunal] correctly held that there was no alternative to striking out the claim."
'Scandalous or unreasonable'
During the tribunal at Cambridge Magistrates' Court, it was revealed that one BBC manager had referred to Ms Chidzoy as "Sally Shitsu" in an email about a story on the Dangerous Dogs Act.
Ms Chidzoy, a BBC employee for 30 years, complained the term was abusive and demeaning on the grounds of her gender.
Ms Chidzoy was being cross-examined by the BBC's barrister Sophie Belgrove when there was a break, during which she was spotted talking to a reporter from the Eastern Daily Press.
Miss Belgrove applied to get the case thrown out on the grounds Ms Chidzoy's claim had been conducted in a "scandalous or unreasonable" manner and it was no longer possible to have a fair trial.
Employment judge Michael Ord struck out the claim, saying that Ms Chidzoy had been warned repeatedly not to discuss the case during breaks.
He ruled it was not possible to have a fair trial, a retrial or hear a more limited case.
Ms Chidzoy appealed against the decision, arguing her conversation was simply "pleasantries".
Judge Eady's judgment was handed down at a short hearing during which neither Ms Chidzoy nor her legal representatives were present.