Cambridge college 'touched' by Hawking graffiti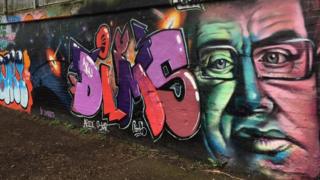 Graffiti of Prof Stephen Hawking drawn on a Cambridge bridge is a "touching tribute" and shows the city's love for him, his college has said.
Artwork of the physicist's face and a silhouette of him in his wheelchair with the words "be curious" appeared after his death aged 76 on 14 March.
The bursar of Gonville and Caius, where Prof Hawking was a fellow for 52 years, said it "shows how he touched lives".
Owner Network Rail said it "would consider requests not to remove [it]".
Hundreds lined the streets of Cambridge for Prof Hawking's funeral on 31 March and thousands signed books of condolence opened by his college.
Street artists in the city - where he lived, worked, and died - paid their own tribute on the underside of a railway bridge.
Kyle Warwick, who was "inspired" by the professor after a school visit, and Tim Shuker-Yates created their vision of Prof Hawking on the bridge in Mill Road.
It is not known how long the graffiti will last as Mr Warwick said artwork is often covered over.
The city council street cleaning team will not intervene as the bridge is not its property.
'Cambridge loved him'
A Network Rail spokesman said the company spends £3.5m each year removing graffiti, and "does not condone or encourage the use of railway infrastructure as a canvas for street artists".
But he added it "would consider requests not to remove artwork" that did not impact on the safety of the railway and was not offensive.
Cambridge University's Gonville and Caius College's senior bursar, David Secher, who knew the professor for 45 years, described it as "a touching tribute to Stephen".
He said: "He loved Cambridge and Cambridge loved him.
"The art is a symbol of how he touched lives in the city and instilled a sense of pride in its residents."