Court order against Traditional Cambridge Tours punt company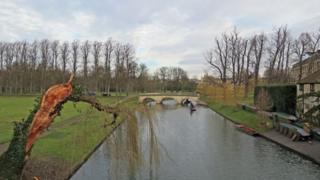 A punting company has been banned from certain areas of Cambridge after the city council won a court order.
The authority said Traditional Cambridge Tours was conducting unauthorised commercial operations and had trespassed on its land.
The company denied it had trespassed and said the council's application was motivated by a desire to put it out of business.
But a High Court judge sided with the council and granted an injunction.
The order bars the company from Garrett Hostel Lane, Jesus Green, Thompson's Lane, Jubilee Gardens, Sheep's Green, Granta Mill Pond, Quayside and Silver Street.
The directors of the company, whose punts currently depart from a slipway on Garrett Hostel Lane, could face a fine or imprisonment if they breach it.
'Limited resources'
Mrs Justice Whipple said it was not authorised to conduct operations from council land, and was not licensed by the Cam Conservators, who manage the River Cam.
The council was supported by Trinity College, which adjoins Garrett Hostel Lane, and said the activity had an adverse impact on the college's enjoyment of its own land.
Traditional Cambridge Tours directors Thomas Arnold, Milan Kovakevich and George Sugden argued the council was not entitled to an injunction.
They said there was fierce competition in the city's punting market and they suspected the application was motivated by a desire to put them out of business.
The council said it had been fighting a battle against illegal operations and punt touts for some time, and had no choice.
Agreeing with them, the judge said: "The council is funded by the public purse.
"It should not be required to make a succession of expensive applications to court, as and when a fresh trespass occurs, depleting limited resources."